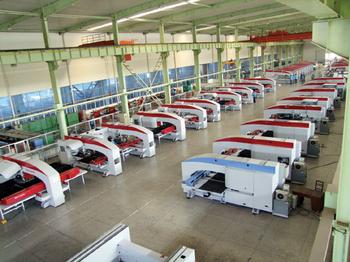 Germany is a veteran industrial powerhouse. Germany has many advantages in the machine tool industry. The forging machinery has a wide range of products. Basically, each type of forging press equipment has a product that represents the world's most advanced level, which also makes the German machine tool company's international market economically strong.
Such as the fast sheet metal forming machine, Schuler's large cover presses, multi-station presses and stamping automatic production lines, Miller Wanjia Dayton's electric screw presses, Oemco's hot die forging presses, Hassan Crawford's clutch screw presses, Lasco's forging hammers, Siempelkamp's large hydraulic presses, Wagner-Banning's ring mills, Reidfeld's spinning machines, FELSS's rotary forging machines and many more.
After years of development, forging machinery manufacturers in Germany have mostly merged and reorganized themselves, implemented strong alliances, and exerted their respective advantages to further enhance their competitiveness in the international market.
Trumpf Group is the world's largest manufacturer of CNC machine tools. In the sheet metal processing equipment manufacturing industry, Trumpf Group ranks first in the world in both technological innovation and production scale. From 2010 to 2011, the total sales revenue of the TRUMPF Group amounted to 2 billion euros and a net profit of 140 million euros. In the gardner world machine tool company (output value) rankings, the TRUMPF Group ranks second behind Japan's Jinqi Machine Tool Company Yamazaki Mazak (ranked the No. 1 among metal forming machine tools companies).
The Schuler Group became the world leader in metal forming technology after acquiring Miller Wanketon. Its main products are large-size cover presses, large multi-station presses, stamping and blanking lines, and electric screw presses. . Schuler has a global market share of about 35%, with an annual turnover of more than 1 billion euros. In the gardner world machine tool business (output value) rankings, Schuler Group ranked 14th, in the metal forming machine tool companies ranked fourth.
SMS Meer is one of the two core companies under the SMS Group. It successively merged with Ormco and Hassan Clerf, which are known for producing mechanical presses and screw presses, to produce mills. Ring-based Banning and Wagner companies. Today, SMS Meer has become a global leader in the fields of pipe, long products, forging and heating. With a global market share of about 40%, it has produced more than 11,000 sets of equipment for the world with an annual turnover of more than 1 billion euros.
Lasco is a pioneer of forging hammers and the first company in the world to apply frequency converters to screw presses. Lascaux's main products are: cold, warm, hot forging hydraulic presses, sheet forming hydraulic presses, powder metallurgy forming hydraulic presses, hydraulic die forging hammers, electro-hydraulic counter-attack hammers, electric screw presses, series of cross wedge rolling mills and roll forging machines .
Siempelkamp Machinery Manufacturing belongs to the Siempelkamp Group, a company that specializes in the manufacture of machinery and complete sets of equipment, with sales accounting for 70% of the entire group. Forging equipment, especially hydraulic presses, is a strength of the company. Forging presses include free-forging hydraulic presses, die forging hydraulic presses, isothermal forging presses and seamless cylinder special hydraulic presses; sheet forming presses include tube forming presses, heat exchange Plate presses, drawing presses and special plate forming presses. In addition, Siempelkamp has also mastered advanced hydroforming technology and equipment. In 1994 Siempelkamp provided BMW with the first hydroforming high-volume production equipment for the automotive industry.
Leifeld (Leifeld) is the world leader in spinning and flow spinning technology. It acquired all intellectual property rights of Leico, another famous spinning press manufacturer in Germany. Its spinning machine products have been serialized, in addition to the rotary machine, it also produces strong spinning, forming spinning and closing spinning machines. Spinning machines can be widely used in aerospace, automotive and weapons industries. For example, the most advanced automotive wheel manufacturing technology currently uses spinning machines.
FELSS is an international group full of vitality. Its products include rotary forging machines, axial cold extrusion machines and bending pipe forming machines. Workpieces machined with FELSS rotary forging machines have the advantages of high surface finish, high load carrying, and small deformation after hardened treatment. The FELSS axial cold extrusion machine uses a pulsed axial forming process to form splines on thin-walled hollow workpieces.
According to the statistics of the German Machine Tool Manufacturers Association in 2010, numerically-controlled machine tools account for 50% of metal forming machines in Germany, and forging machines account for 14.3% of forging and forging presses, bending machines and coiling machines. The leveling machine accounted for 18.4%, shearing, cutting and blanking machines accounted for 16.3%, other presses accounted for 27.7%, and other metal forming machine tools accounted for 23.2%. In 2010, the export value of the German machine tool industry was 5.075 billion euros, of which the export trade to China was 1.566 billion euros, accounting for 30.85% of Germany's total export sales. In the first half of 2010, Germany's machine tools and equipment exported to China accounted for 56.7 million euros for forging presses and forging hammers, 40 million euros for the punch press, and trade volume for press brakes, coiling machines, and leveling machines. With 32.5 million euros, the trade volume of laser processing machines and other physical and chemical processing machine tools was 32.5 million euros, which shows that China has become the largest exporter of German forging presses.
Nonstick Cookware,Nonstick Saucepot,Ceramic Nonstick Stock Pot
Aluminum Cookware Co., Ltd. , http://www.nskitchenware.com